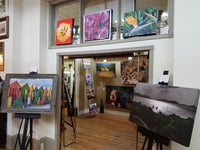 Just made site active. On-line Store purchases will be ready soon.
Some of my photographic artwork is on display and for sale in the store.
*Photo taken at the store. Items have been moved due to COVID crisis and the retail business. Will advise when they are back into a retail store or art gallery.
2nd ACT Antiques, Collectibles & Treasures
306 Delaware Street, New Castle, DE 19702
The Giclée canvas artwork are 2.5" deep unless framed. There are a few that are 2.0" in depth. Read the detailed information for each photographic art piece as selected in each of the Collections.
If purchasing locally you may pick up the artwork at the store or I may be able to deliver to your home.
Process time for the catalog items may take 3 to 4 weeks. Each canvas piece is hand stretched for example in addition to being laminated by hand for a protective scratch-resistant UV. Custom sizes may be accommodated just inquire. 
In addition my inspirational artist is on display here also, my father. Some of his work is posted here as well and noted accordingly.
Next to Home Page and Catalog feature you can select "Collections" and this will breakdown the artwork into different regions plus themes that may assist your search quicker. Enjoy Exploring!
More photographic artwork shall be added so keep checking back in to the site. New formats such as ChromeLuxe® Aluminum prints and TruLife® Anti-Reflective Acrylic be added.